Recently we have started sending Customer Satisfaction Questionnaires to customers we have done work for in the past few months. The questionnaire is simple, there are a series of questions and all we ask is for a rating on how well you feel our services were by ticking either 'excellent' 'good' 'fair' or 'poor'. The idea is we can find out what are customers feel we do well and what we need to improve on so we can provide a better service. We have sent two sets of questionnaires so far and have randomly chosen two winners.
The winners of our first prize draw was Andy and Alison Sutton, the winners of our second prize draw were Richard and Diane Holmes who won themselves £25 worth of vouchers to spend at G-scapes.
As well as filling out the questionnaires many people have sent us letters and we are so grateful for all the lovely comments people have said to us. The following are a few letters we have received over the last few months.
"Dear Simon and all the team at Beautiful Gardens,
Many thanks for the questionnaire, which you will find enclosed. It has prompted Diane and myself to write a separate letter, which we had every intention of doing for quite some time. Unfortunatly, the demands of two young children make it rather difficult to get time to write to you, but that does not mean that our comments are any less sincere.
Quite simply, we are absolutely delighted with our new garden. It had taken us a long time to get ourselves to the point where we could 'take the plunge', and we are so glad we chose Beautiful Gardens. Throughout the entire design and construction process everybody was friendly and helpful. It was clear that Simon had an excellent eye for what could be done on quite an awkward plot, and we soon saw the shortcomings of our own ideas thanks to his excellent guidance. Simon, you must have the patience of a saint. Every time you visited us it seemed that we were asking you to change bits, or add extra bits in here and there. Thank you for being so understanding.
Once the construction was underway, we found without exception that everybody was extremely friendly, dedicated, hard-working and professional. It was a pleasure to have you at our house, and the standard of workmanship is second to none.
You have created an extremely user friendly garden, which we have already used more in the last few weeks than we have used in an entire year! The children love it, and they have a wonderful time riding on the decking on their trikes and scooters, and playing with all the garden toys that can now be fitted on to our lovely flat weed free lawn. Even now it is still such a thrill to see our new garden, and able to sit in it, enjoying it and entertaining our family and friends in it. Already we cannot wait for next spring!
Thank you so much for everything you have done. We would not hesitate to use Beautiful Gardens again in the future, and we have certainly not hesitated to recommend you to our family and friends.
Sincere Thanks,
Diane and Richard Holmes'
'Dear Simon
Following the recent completion of our garden please find enclosed a cheque for the sum of £720 this being the outstanding balance owing, together with your completed questionnaire.
Our initial ideas, thoughts and designs for the garden have been transformed into a wonderful garden area just as we originally visualised and are really pleased with the completed garden
Thank you to you and your team
Yours sincerely
Suzanna and Andy Billingham'
'Dear Simon,
Please find enclosed final payment of completion of our garden on Friday 15th july 2011.
I would like to thank you and the team very much for all the hard work and dedication in making our garden truly 'beautiful'.
We will certainly recommend your company in the future and we wish you well in your continued success off 'beautiful gardens'
Thank you all
Sharon and Martin'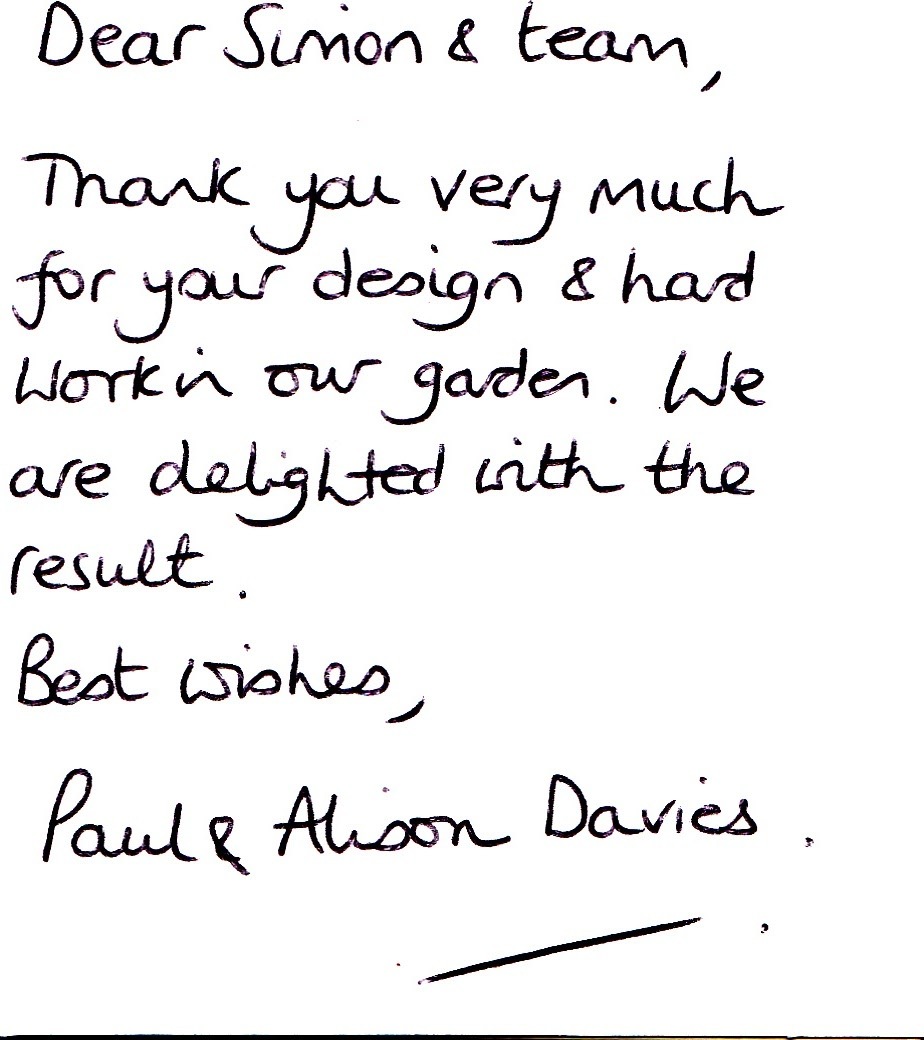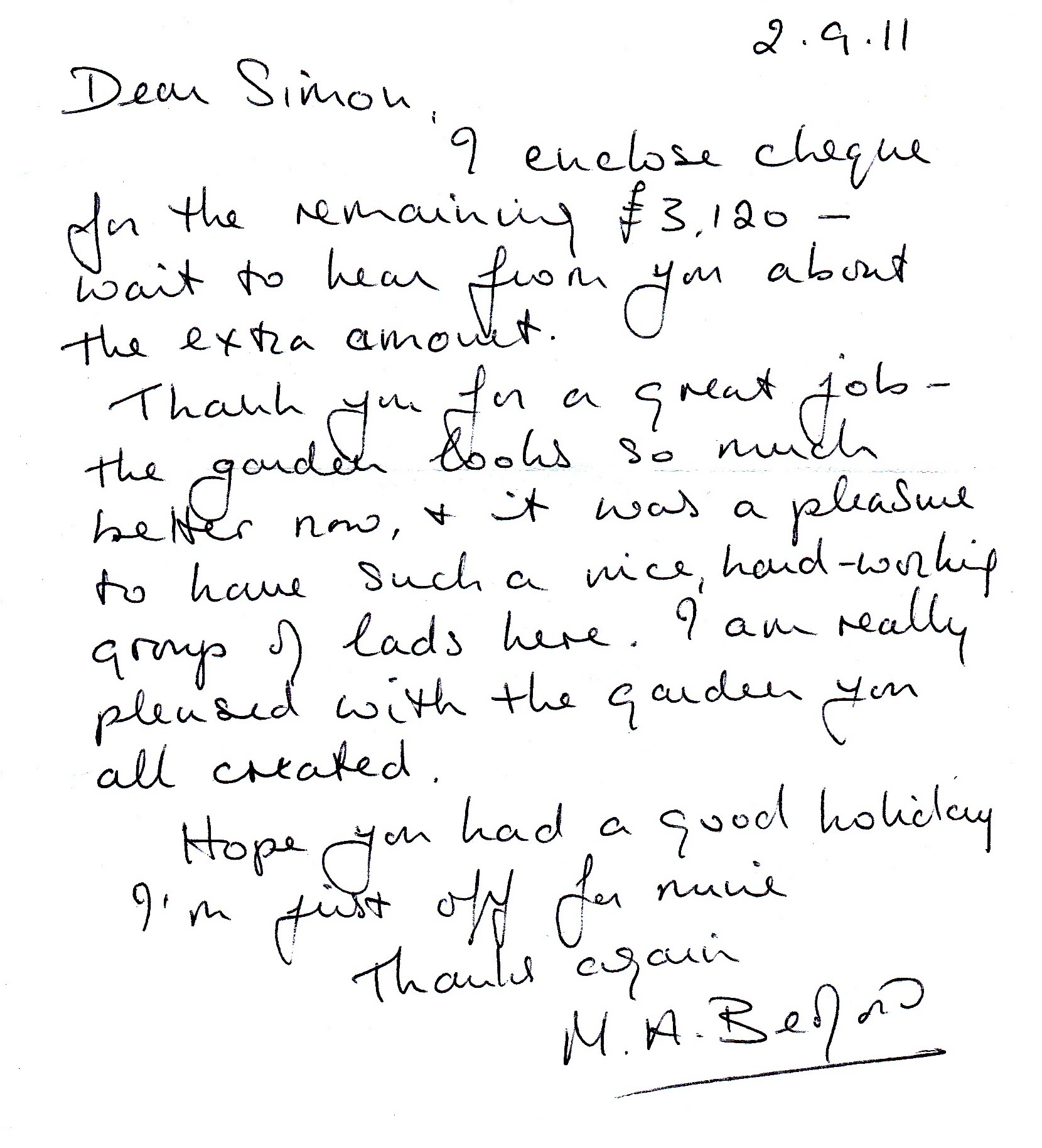 We will be sending more questionnaires out soon and we hope to get some really good feedback as we have had so far. In the near future the replies from our questionnaires will be uploaded onto the website into a folder of testimonials so you will be able to see peoples comments.