TrustMark is supported by the Government, building industry and consumer protection groups and helps homeowners to find reliable, trustworthy tradesmen to carry out improvements to the inside and outside of their homes. It covers all kinds of trades; from building and plumbing to roofing and landscaping .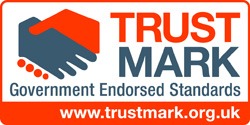 Why choose a TrustMark recognised tradesman?
A firm's technical skills have been independently checked through regular on-site inspections, as well checks on their trading records and financial position
The firm has signed up to a code of practice that includes insurance, good health and safety practices and customer care
The approved scheme operator has checked and will continue to monitor the quality of their work, trading practices and customer satisfaction
The firm will tell you about any building regulations you must meet and may be able to give you the certificates you need
If you have a problem or disagreement with the firm, there will be a clear and user-friendly complaints procedure to help sort out the problem
If the firm does not automatically provide adequate insurance cover you will have the option to buy a warranty.
When you employ an APL member displaying the TrustMark logo you know that they have been independently inspected and have met the required Government endorsed criteria outlined above.
Please note that even if you select a TrustMark recognised tradesman it is still your responsibility to select a suitable contractor and the terms on which the contractor undertakes the work for you. You should still make all necessary enquiries including, without limitation, as to the contractor's qualifications, experience, guarantees offered and insurance.